13 mars 2015
5
13
/

03
/

mars
/

2015
08:35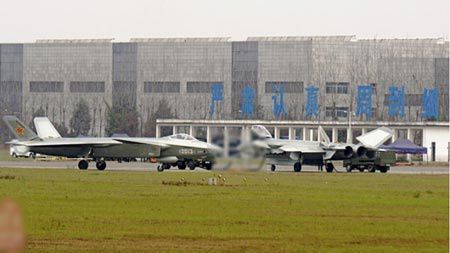 2015-03-10 wantchinatimes.com
Two prototypes of China's J-20 stealth fighter were photographed carrying out test flights in Chengdu recently, reports the Shanghai-based Guancha Syndicate.
The prototypes, 2013, 2015, are said to be installed with new avionics developed by Aviation Industry Corporation of China's Chengdu Aircraft Industry Group. Its chief designer Pu Xiaobo said the system he created has an open framework that builds on an unified optical interconnect module. The system has comprehensive features covering navigation, detection, identification, attack, management and pilots' health management. It also integrates flight management systems, electronics and aviation electronics, which will ensure the fighter jet can carry out a mission safely and the systems are able to share their resources with each other.
Pu and his team built the country's most advanced concept laboratory and a simulation environment to test the design.
The stealth fighter was first officially introduced to the public though a PLA recruitment video called Heroes' Sky released on Feb. 26. Rear Admiral Yin Zhuo of the PLA Navy said the film suggested the J-20 will enter service soon. The video also described the quality of the plane's stealth capabilities, flight control system, avionic electronic system, active phased array radar, supermaneuverability, over-the-horizon radar and attack have been improved as well, he added.