21 novembre 2012
3
21
/

11
/

novembre
/

2012
19:15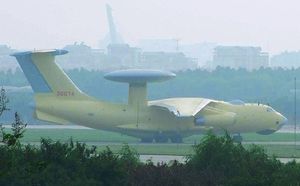 November 21, 2012 china-defense-mashup.com
2012-11-21 — China's locally made early-warning aircraft have proven their operational capabilities in drills and can now direct different forces to respond more effectively to aerial threats, the People's Liberation Army Daily reported yesterday.
Analysts said the report could be seen as a response to Western reports that downplay the effectiveness of China's military modernisation effort.
The PLA Daily report, which appeared in an inside page, did not identify the aircraft that took part in the drills, but it was accompanied by an illustration of a KJ-2000 early waring aircraft in flight. It said the plane had become an air operational centre to command land, air and naval forces in several drills this year.
The aircraft is larger than ordinary fighter jets and can detect threats such as enemy airplanes.
"It is a historic leap for our army's combat ability on the modern battlefield … as the combat information transport system successfully connected with our advanced fighter jets during the drills," the report said, adding that China had spent more than five decades developing its early-warning aircraft systems.
"The new achievement also indicates our army has overcome some critical bottlenecks in multi-unit command."
In June, a report by Japan's Kyodo news agency quoted American and Taiwanese sources as saying the PLA had only nine such aircraft, including five small KJ-200s and four large KJ-2000s, and that they were at least 20 years behind the planes operated by the United States and Japan in terms of operational capability.
Andrei Chang, editor-in-chief of the Canada-based Kanwa Asian Defence Monthly, said China's options were limited because it "doesn't have enough advanced, big aircraft" suitable for the installation of early-warning systems.
"But it's difficult to estimate how many years the PLA's early-warning operation lags behind the Western countries because Beijing is trying to narrow the gap," Chang said.
Lin Chong-pin, a former deputy defence minister in Taiwan, said the PLA Daily report was not propaganda, but further evidence of Beijing's breakthroughs in the field.
"[The mainland] faced a developing bottleneck of military technologies in the 1990s, but it has made many breakthroughs in the 21st century, including the debuts of the J-21 and J-31 [stealth fighters] and the batch production of 052-D guided missile destroyers early this year," Lin said.
He credited the rapid development to former president Jiang Zemin's efforts to accelerate the army's modernisation, including a funding boost and the unprecedented promotion of many officers with engineering backgrounds to decision-making positions.
The KJ series of early-warning aircraft debuted in the 2009 National Day parade, but the PLA Daily said the army had set up its first early-warning force five years earlier.