1 octobre 2015
4
01
/

10
/

octobre
/

2015
12:50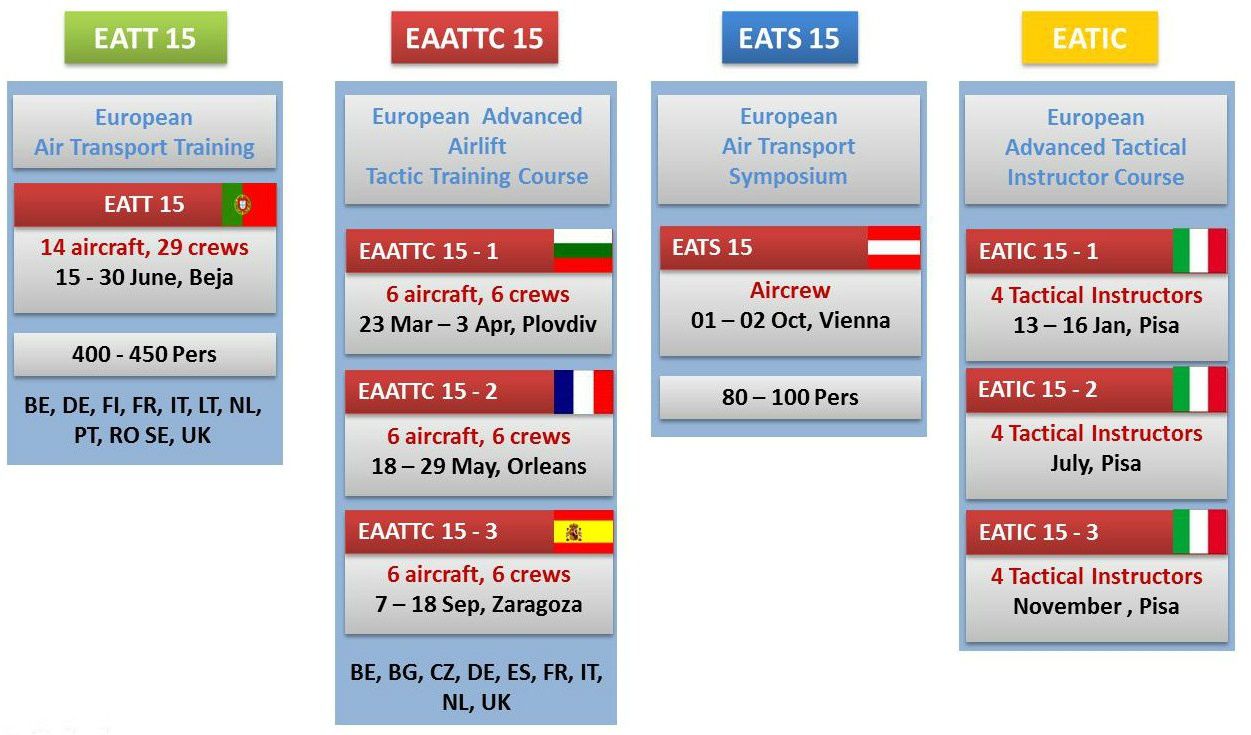 Vienna - 01 October, 2015 European Defence Agency
From 1 to 2 October, the 2015 European Air Transport Symposium will take place in Vienna. Hosted by the Austrian Ministry of Defence and Sport and ran by the European Defence Agency (EDA), the symposium will bring together around 80 participants from the European Member States' air transport community. The focus of the event is on improving operations and training from the operator's perspective. The delegates will discuss several operational and training challenges with a single objective of tangibly improving European air transport interoperability.
"The 2015 Symposium is the sixth to be organised by EDA in support of the European Air Transport Fleet Programme and builds on the success of the other air transport training events we have ran over 2015 in France, Italy, Portugal and Spain. My thanks go to the Austrian Ministry of Defence and Sport for hosting what I am sure will be another excellent event", said Roland Van Reybroeck, EDA's Director for Cooperation Planning and Support

Brigadier General Karl Gruber, Austria's Air Chief, said, "It is a very honourable task for the Austrian Armed Forces to host the 2015 Symposium in our capital Vienna. In times of limited resources, but permanently growing mission challenges, cooperation will play a decisive role to maintain our operational freedom of action. One of the most important cooperation fields is military air transport, enabling us to project our forces and to sustain operations, even when civil transport and ATC systems are no longer available. The Symposium offers an excellent opportunity, to discuss our common challenges and concerns."

EDA continues to build strong links with the Europe's air power experts across a range of capabilities. The air transport programme remains vibrant with plans to further expand a range of training opportunities over 2015 and to establish a European Air Transport Training Centre in Zaragoza Spain by the end of 2016.
Background
The European Air Transport Fleet project (EATF) is designed to improve airlift provision within the European Union. EATF provides a flexible and inclusive partnership for national and multinational military air transport fleets and organisations in Europe. It addresses the way different air transport assets are acquired, operated, supported, and managed to ensure this is done in the most efficient way possible. The long term vision of the EATF is to establish a robust network linking various European air transport entities aiming at the efficient employment of all present and future air transport capabilities made available by the participating Member States for military needs, regardless of type or origin.
Deliverables of the EATF are among others yearly training events (European Air Transport Training) and life airlift courses (European Airlift Tactics Training Course) as well as the European Air Transport Symposium.
More information