24 février 2015
2
24
/

02
/

février
/

2015
17:45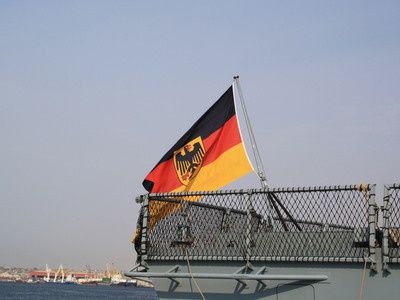 24 February 2015 by defenceWeb
Three German Navy vessels, due to take part in Exercise Good Hope with the South African Navy next month, have berthed in Angola as part of their journey around Africa.
The vessels arrived in Luanda on Saturday, having sailed from Wilhelmshaven on 27 January. They will sail around the coast of Africa, through the Suez Canal and to the Mediterranean before returning to Wilhelmshaven in June, according to the German embassy in Angola, and are due to depart Angola today.
The ships form part of the European's country annual training cruise EAV 2015 but they are also hosting a number of German companies who are exhibiting their products aboard one of the vessels, the Hessen.
The vessels took part in Exercise Obangame Express in the Gulf of Guinea on their way down the West Coast and will take part in Exercise Good Hope VI with the South African Navy next month. They will also contribute to the European Union's anti-piracy Operation Atalanta in the Gulf of Aden region.
The ships include the Sachsen class frigate FGS Hessen; the Bremen class frigate FGS Karlsruhe; the Type 702 Berlin class supply vessel FGS Berlin; and the Brandenburg class frigate FGS Brandenburg. The Berlin can be used as a command platform for joint operations and as a floating hospital and carries two helicopters. Although the three frigates docked in Angola, the Berlin remained at sea.
The German embassy said the port visit follows a visit by Angolan defence minister Joao Goncalves Lourenco to Germany in November last year during which he signed an agreement with his German counterpart Dr Ursula von der Leyen regarding defence co-operation. German Ambassador Rainer Muller on Friday said that 18 Angolan military personnel have benefited from training in Germany, under the cooperation agreement between the two countries.
The German vessels are due to enter South African territorial waters on March 1 and sail into Simon's Town on March 2 and will do harbour training with elements of the SA Navy until March 12 as part of Exercise Good Hope. This date has been set aside for a harbour visit to Cape Town with March 13 and 14 earmarked as open days.
All four German maritime platforms, the frigates each carrying a Sea Lynx helicopter, will participate in tasks ranging from search and rescue through to boarding and gunnery with a South African Valour Class frigate and one of the Heroine Class Type 209 submarines.
The Germans will take a welcome break from maritime action from March 20 to 22 when they will participate in the Navy Festival, a highlight of the Navy calendar before the end of the exercise and departure from Simon's Town on March 23.
The aim of Good Hope is to strengthen military, particularly maritime, co-operation between the two countries via the sharing of maritime expertise.