18 mars 2015
3
18
/

03
/

mars
/

2015
17:35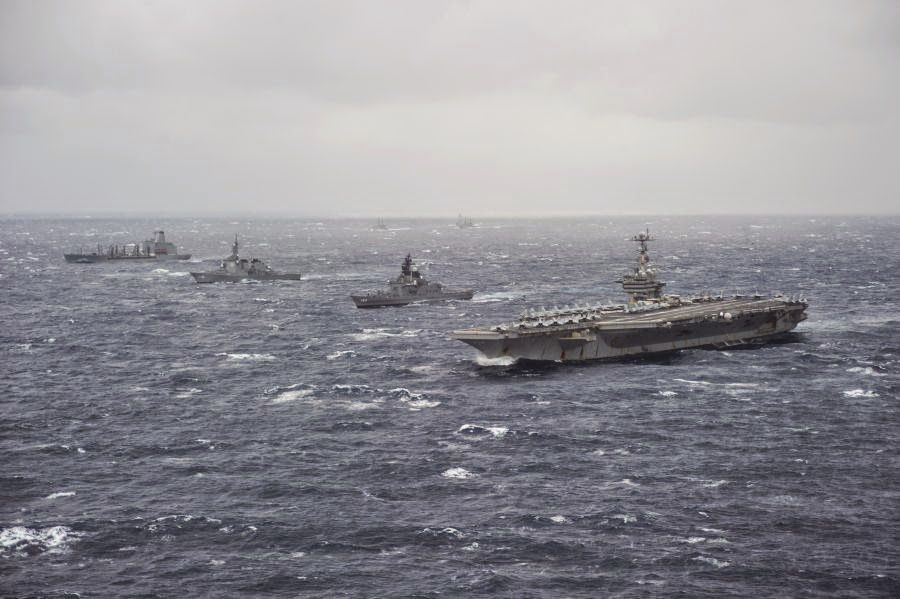 The aircraft carrier USS George Washington (CVN 73), right, the George Washington Strike Group and Japan Maritime Self-Defense Force ships.
March 18, 2015 todayonline.com
NEW YORK — The commander of the US Navy Seventh Fleet called on South-east Asian nations to form a combined maritime force to patrol areas of the South China Sea where territorial tensions flare with China.
Countries could streamline cooperation on maritime security while respecting sovereignty and coastal space, as in the case of counter-piracy efforts in the Gulf of Aden, Vice Admiral Robert Thomas said yesterday (March 17) at the Langkawi International Maritime and Aerospace Exhibition in Malaysia.
The US has reassured allies in the region it will back them against China's assertions to about four-fifths of the sea. China has ratcheted up pressure on some Association of South-east Asian Nations (ASEAN) members, and has accelerated reclamation work on reefs in the waters criss-crossed by claims from Vietnam, Taiwan, Brunei, the Philippines and Malaysia.
"Perhaps easier said than done, from both a policy and organisation perspective, such an initiative could help crystallise the operational objectives in the training events that ASEAN navies want to pursue," Vice Admr Thomas said at a panel session with navy chiefs. "If ASEAN members were to take the lead in organising something along those lines, trust me, the US 7th Fleet would be ready to support."
Read more