30 octobre 2015
5
30
/

10
/

octobre
/

2015
08:30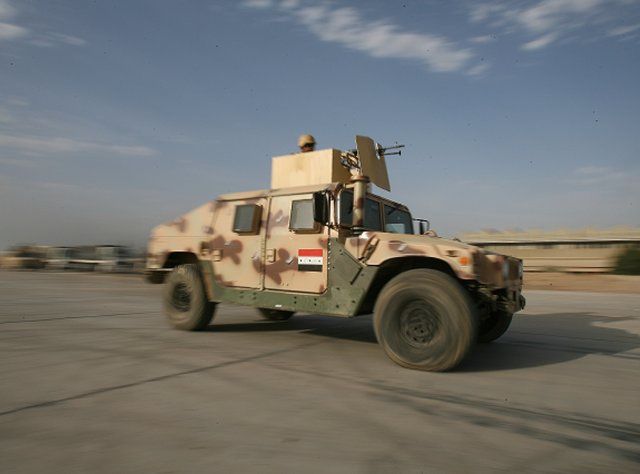 October 29, 2015: Strategy Page
Iraq is buying a lot more armored vehicles. While Russia offers cheaper prices and faster delivery the Iraqis prefer to buy American. Since mid-2014 Iraq has ordered 1,000 armored M1151A1 HMMWVs (hummers) from the United States. Even before ISIL (Islamic State in Iraq and the Levant) captured Mosul in June 2014 Iraq had ordered 200 M1151A1s at a cost of $505,000 each. This included a ring mounted 12.7mm (.50 caliber) machine-gun, maintenance equipment, training and warranties. The M1151 is a hummer built to handle the additional weight of armor protection. Thus one of the key changes in the M1151 is a stronger suspension and a larger engine (a 6.5 liter turbo-diesel). This allows the vehicle to easily handle an additional 680 kg (1,500 pounds) of armor. More importantly, the armor is easily installed, or taken off. This allows the hummers to operate more efficiently without the armor when the threat of attack is much reduced. The M1151 also has some armor underneath. This is not a lot of protection against mines and roadside bombs, but it is better than none. The M1151 is basically an armored car, with a crew of four and a payload of one ton (plus two tons that can be towed.) Top speed is 80 kilometers an hour and a max range (on one tank, on roads) of 480 kilometers. All the armored protection is good against 7.62mm machine-guns and rifles, bombs, landmines and nearby bursting shells of up to 155mm. The M1151 hummer also comes with Vehicle Emergency Escape (VEE) Windows. These are bulletproof windows with a latch system. It takes about five seconds to turn the latches and push the window forward. This enables troops to get out of vehicles that have rolled over, or gone into the water, and jammed the doors. If the vehicle catches fire, either from an accident or roadside bomb, the VEE has already proved to be a lifesaver since it was introduced in 2007. The M1151 was developed in 2005 based on experience in Iraq. The M1151A1 has become the preferred HMMWV model in areas where there is a lot of violence.
Iraq has also ordered 175 M1A1 tanks, 15 M88A2 tank recovery vehicles (that can tow disabled M1 tanks off the battlefield) and numerous accessories and support equipment and spare parts. When ISIL made its unexpected advance in 2014 the Iraqi Army had already equipped one of its armored divisions with M-1 tanks. In 2008 Iraq ordered 140 M1A1-SA tanks, along with over a hundred support vehicles (for maintenance and transportation, like 35 tank transporters). The request includes training and technical support, for a total contract cost of over $2 billion. The tanks were delivered by 2011. Since mid-2014 Iraq has lost about a third of their 140 M1s. Some were captured but most were abandoned when damaged or because they broke down and the Iraqis could not get them going again.
The M1A1-SA (Situational Awareness") is equipped with features that the U.S. Army developed in 2006. The M1A1-SA includes the latest thermal (FLIR, or heat sensing) sights, a special engine air filter system developed to deal the abundant sand and dust in Iraq, the telephone on the rear fender, which allows accompanying infantry to communicate with the crew, and numerous small improvements.
There are several items the Iraqi SA tanks will not get, that those used by American troops do have. These include no depleted uranium armor, no ERA (Explosive Reactive Armor) on the absence of some other features meant to protect against anti-tank missiles. Also missing is Blue Force Tracker (a U.S. satellite tracking system that shows the location of all American vehicles and aircraft in the vicinity.)
Iraq is not the first Arab country to operate the M1 tank. Egypt, Kuwait and Saudi Arabia already operate over 1,600 of them, and Egypt has built hundreds of them (mainly using components imported from the U.S., but with some locally made parts). All the other Arab users have at least some of the latest model (M1A2 SEP). The Arab users of the M1 have been very happy with their American tanks. This satisfaction increased when they saw how the M-1 performed in Iraq. While most Arabs deplored U.S. operations there, Arab tank officers and M-1 crewmen were quietly pleased that their tanks appeared invulnerable, and able to assist the infantry in any kind of fight. Iraqi army officers have spoken to fellow Arab officers who have used the M-1, and were told this was the way to go.
Despite the removal of some features, the Iraqis are glad to have their M-1s. Since 2003 Iraqis have been very impressed by the U.S. military. Although the U.S. initially advised the Iraqis to expand upon their use of Russian equipment (which they had been using for over three decades) the Iraqis insisted on adopting U.S. gear and tactics. Thus Iraqi troops wear similar uniforms, and use many identical weapons and items of equipment. Iraqi soldiers, especially the younger ones, imitate American moves to the point that, in the field, U.S. troops sometimes have to look closely to determine if the G.I. down the street is American or Iraqi.