3 mars 2015
2
03
/

03
/

mars
/

2015
18:35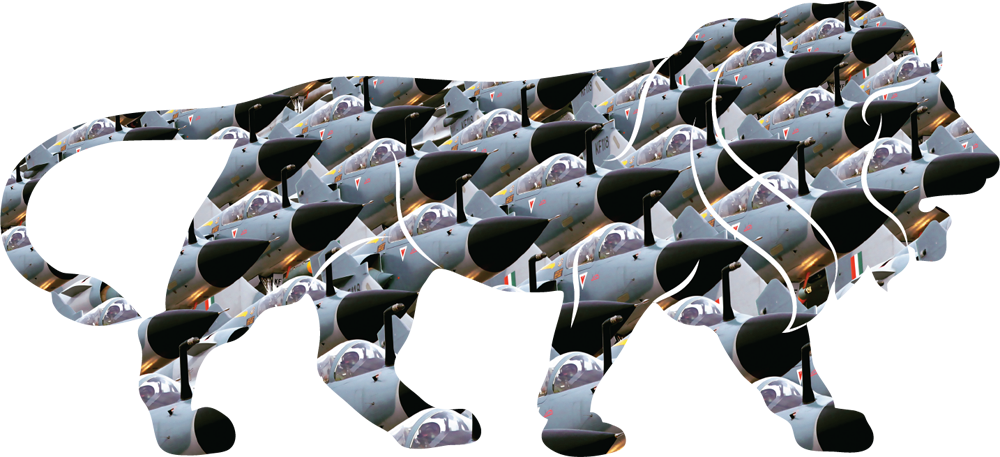 L'édition 2015 du salon Aero India s'est terminée dimanche 22 février sans annonce de contrat important malgré de nombreuses attentes et rumeurs. Plus de six cents entreprises, indiennes et internationales, étaient présentes à cette 10ème édition du salon aéronautique indien. S'il n'y a pas eu d'annonce notable, le sujet principal des discussions a été la nouvelle stratégie dite du « Make In India » sur laquelle le Premier ministre indien a centré son discours d'inauguration.

L'objectif principal de cette stratégie est de réduire la dépendance de l'Inde vis-à-vis de ses fournisseurs étrangers d'armement tout en développant les industriels indiens. L'industrie de défense indienne se divise en deux catégories principales : d'une part les entreprises publiques, Public Sector Undertakings, et d'autre part les entreprises privées. Le budget de la défense étant en constante augmentation (1), l'enjeu pour ces entreprises est de développer leurs positions sur ce marché en croissance.

Le développement actuel de ces industriels se fait soit directement par l'obtention de contrats publics, soit « indirectement » par le biais des offsets (2) et des transferts de technologies à l'occasion de contrats emportés par des entreprises internationales. Les industriels indiens veulent également que les procédures actuelles soient simplifiées, en particulier la question des offsets et de la fiscalité, avec un plan détaillé au-delà de la stratégie annoncée par le Premier ministre (3).

La réduction de cette dépendance - l'Inde est le premier importateur mondial d'armement - est aussi un enjeu diplomatique pour le pays. En effet, l'attractivité de son marché d'équipement et la possibilité de créer des partenariats locaux lui permettent de développer ses relations stratégiques et économiques à l'international, avec des pays comme les Etats-Unis, la Russie, la France ou Israël et vers sa zone d'influence, comme l'Australie, Singapour, le Sri Lanka, la Thaïlande ou même Oman et Bahreïn.

La base industrielle et technologique de défense (BITD) publique

Sous l'égide du ministère de la Défense indien, on peut identifier d'une part les entreprises publiques, Public Sector Undertakings (PSU), au nombre de huit (4), et d'autre part les usines d'armement, Ordnance Factories Board (OFB), au nombre de quarante deux, employant en tout 164 000 personnes. Celles-ci sont dirigées par un conseil avec à sa tête un directeur général en charge des cinq « divisions » (5) : munitions et explosifs ; armes, véhicules et équipements ; matériels et composants ; véhicules blindés ; et un groupement des usines.

Les OFB et PSU sont chapeautées par le Department of Defence Production (DDP) dirigé par un Secrétaire à la production. Le DDP est chargé de coordonner les programmes, et de fabriquer les équipements, nécessaires à l'autonomie de l'Inde en matière d'armement. On peut ajouter à cette organisation la Defence Research and Development Organization (DRDO) qui est elle en charge de la recherche et développement sous l'autorité d'un secrétaire dirigeant : le Department of Defence Research and Development.

Bharat Dynamics Limited (BDL) a été créée en 1970 pour la fabrication de missiles, soit localement, avec la DRDO (6), soit en coopération avec la Russie pour les missiles Konkurs M et Invar (7). Bharat Electronics Limited (BEL), créée en 1956, est spécialisée dans les systèmes électroniques, en particulier de communication et radars, pour les différentes composantes des armées (8). Enfin, Bharat Earth Movers Limited (BEML), créée en 1964, fabrique des engins de chantiers, des camions et des trains pour le marché militaire et civil.

Dans le domaine naval, les trois chantiers Garden Reach Shipbuilders & Engineers, Goa Shipyard et Mazagon Dock, assurent la construction des bâtiments de surface (dont le programme de porte avions), des sous marins (diesel et nucléaire) et des bâtiments de soutien ou de surveillance côtière. Hindustan Aeronautics Limited (HAL), partenaire de Dassault pour le Medium Multi-Role Combat Aircraft (MMRCA) est en charge des recherches, et de la construction, pour les programmes d'avions, d'hélicoptères, de moteurs et d'avionique.

La BITD privée

La principale caractéristique de la BITD privée indienne réside dans le fait que ses principaux acteurs sont des groupes aux activités multiples qui ne sont parfois entrés dans le secteur de la défense que récemment. C'est le cas par exemple du Hero Group qui veut investir dans un chantier naval ou le Reliance Group d'Anil Ambani qui a annoncé son intérêt pour la défense en février 2015. A l'inverse, des groupes comme Tata ou Mahindra sont des acteurs anciens du secteur.

Le Tata Group est actif dans le secteur de la défense depuis l'indépendance de l'Inde, pour la fabrication de véhicules, de composants de missiles, et plus récemment a investit dans l'électronique de défense avec Honeywell ou l'aviation militaire avec Airbus (9). Le Mahindra Group, quant à lui, a commencé par la construction de jeeps militaires pendant la Seconde Guerre mondiale, puis de camions, blindés et désormais des torpilles ou des radars. Le Hero Group, leader mondial des deux roues, cherche à investir dans la défense.

Reliance Industries, groupe dirigé par Mukesh Ambani (première fortune indienne), présent dans le pétrole, les télécoms ou la santé, est partenaire de Boeing pour la construction des avions de reconnaissance P8I indiens, et de Dassault pour fournir des composants du programme MMRCA. Bharat Forge, principale société du Kalyani Group, est partenaire de l'israélien Rafael pour fournir des missiles antitanks à l'armée indienne, et a fabriqué des munitions d'artillerie.

Il s'agissait des munitions des canons Bofors dont le Hinduja Group fut l'acteur principal : celui-ci contrôle fabriquant de camions et bus Ashok Leyland, partenaire de Nexter pour le châssis du canon Caesar. L'autre partenaire de Nexter est Larsen & Toubro, qui intervient aussi bien dans le domaine naval que terrestre ou aéronautique, que ce soit pour des systèmes complets, des pièces et composants ou la construction de matériels lourds. On le voit, les activités de défense ne sont qu'une partie des activités de ces groupes privés.


Offsets et transferts de technologie

A l'échelle d'un contrat comme le MMRCA (10), l'enjeu est d'avoir une BITD suffisamment importante pour atteindre le montant prévu des offsets et surtout pouvoir faire fabriquer sur place les pièces et systèmes nécessaires. Et il ne s'agit pas seulement de faire faire ponctuellement mais de transférer durablement les technologies et savoirs faire afin de rendre les industriels indiens autonomes. Au-delà du « Make In India », l'objectif déclaré est désormais le « Export India » (11).

Si l'attractivité du marché indien, les offsets et le « Make In India », rendent l'acquisition de technologies et savoirs faire facile pour les industriels indiens, l'enjeu secondaire est l'emploi : créer des emplois pour la population mais surtout fournir aux industriels des travailleurs qualifiés. D'après le ministre indien du « skill development and entrepreneurship », Rajiv Pratap Rudy, l'industrie aéronautique aura besoin d'un million de travailleurs d'ici dix ans pour la construction, la maintenance, l'exploitation et la recherche (12).

L'ouverture du marché indien de la défense passe par la création de joint-ventures (JV) entre industriels indiens et internationaux. Ceux-ci peuvent désormais avoir, grâce à une réforme récente, 49% de la structure commune. Il y a désormais trente-trois « investissements directs étrangers » aussi bien dans la BITD publique que privée. La création de telles structures doit être approuvée par un comité gouvernemental, le Foreign Investment Promotion Board. Donc bien que de plus en plus ouvert, ce marché sensible reste régulé.

Et de ce point de vue, les industriels indiens, privés et publics, ou même étrangers, réclament une clarification des procédures que ce soit pour les contrats, les offsets ou les JVs. Ainsi lors d'une session organisée, en parallèle d'Aero India, par la Confederation of India Industry, le ministre de la Défense, Manohar Parrikar, a interagi directement avec les trois cents industriels venus avec des questions sur ces sujets (13). Les offsets étant la clef du développement des partenariats et des industriels, le ministre a promis d'agir pour faciliter leurs mises en œuvre.

Au-delà des grands groupes cherchant à capter une part croissante du budget de la Défense, il existe de nombreuses PME spécialisées. Celles-ci obtiennent des contrats de sous-traitance de la part des groupes indiens ou internationaux. A l'occasion d'importants contrats publics, pour lesquels les offsets sont applicables, ces PMEs offrent leurs capacités de production aux industriels étrangers. Cette partie privée de la BITD indienne, et son pendant public, reste à développer.





(1) Déjà 9ème budget mondial, l'Inde pourrait pousser son effort de défense jusqu'à 130 milliards de dollars sur les 8 années à venir : "Make in India: With defence budget set to touch $130 billion in eight years, experts urge HAL to revitalise itself", The Economic Times, 23/02/15, http://economictimes.indiatimes.com/industry/indl-goods/svs/engineering/make-in-india-with-defence-budget-set-to-touch-130-billion-in-eight-years-experts-urge-hal-to-revitalise-itself/articleshow/46340016.cms
(2) Les Offsets, ou compensations industrielles et économiques ou commerciales, "sont des contrats non standards exigeant qu'une forme d'activité économique soit transférée du vendeur au gouvernement de l'acheteur comme condition pour la vente de biens et/ou services sur les Marchés Publics." (LES PRATIQUES D'OFFSET ET LES GRANDS GROUPES FRANCAIS - http://bdc.aege.fr/public/Les_pratiques_d_offset_et_les_grands_groupes_francais.pdf)
(3) "PM Modi sets challenging target for India's defence manufacturing sector", DNA India, 18/02/15, http://www.dnaindia.com/india/report-pm-modi-sets-challenging-target-for-india-s-defence-manufacturing-sector-2062045
(4) Certaines ont des filiales spécialisées et il existe la Mishra Dhatu Nigam Limited, spécialisée dans les alliages pour l'aéronautique, l'armement, le nucléaire et la marine.
(5) Il existe également des écoles de l'OFB, ainsi qu'un corps administratif spécifique et des services de soutien dédiés.
(6) Missiles AKASH, NAG, Article K-15, AGNI VARIANTS (A1, A2 and A3)
(7) Le missile Brahmos est une coopération directe entre la DRDO et NOP Mashinostroyenia en Russie.
(8) "L'Inde, puissance militaire?", Pierre Memheld, Revue de la Défense Nationale, Novembre 2014
(9) "Tata, Airbus to jointly bid for making transport planes for IAF", Business Standard, 29/10/14, http://www.business-standard.com/article/economy-policy/tata-airbus-to-jointly-bid-for-making-transport-planes-for-iaf-114102801555_1.html
(10) Medium Multi-Role Combat Aircraft
(11) "Defence Exports Could Touch $17 Billion by FY22: Report", The Indian Express, 25/02/15, http://www.newindianexpress.com/business/news/Defence-Exports-Could-Touch-17-Billion-by-FY22-Report/2015/02/25/article2686225.ece
(12) "Indian aerospace sector needs one million skilled workforce in next 10 years", Live Mint, 20/02/15, http://www.livemint.com/Politics/hRJQjq7ZKVXQ5RFkzWbmAJ/Indian-aerospace-sector-needs-one-million-skilled-workforce.html
(13) "Offsets Exasperation Peaks, Defence Minister Listens", LiveFist, 21/02/15, http://www.livefistdefence.com/2015/02/offsets-exasperation-peaks-defence.html