9 novembre 2015
1
09
/

11
/

novembre
/

2015
08:20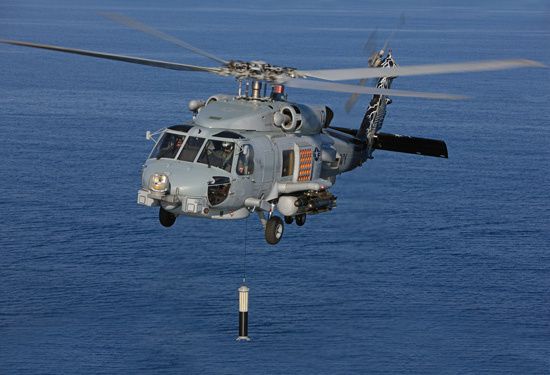 The ALFS integrated dipping sonar system enables the MH-60R to accomplish assigned undersea warfare missions. (Photo credit Lockheed Martin)

06.11.2015 par Philippe Chapleau - Lignes de Défense

Bon an, mal an Raytheon Company et Thales Underwater Systems, Brest, produisent une vingtaine de sonars de type AN/AQS-22 Airborne Low Frequency Sonar (ALFS). Les deux firmes sont associés pour la production de ce sonar qui équipe les hélicoptères MH-60R de l'US Navy.
La dernière commande en date porte sur 22 sonars (20 pour l'US Navy et 2 pour la marine saoudienne). 59% du marché sera réalisé à Brest par TUS. Montant de ce marché: 65,8 millions de dollars.
L'avis du Pentagone:
"Raytheon Co., Integrated Defense Systems, Portsmouth, Rhode Island, is being awarded a $65,801,757 modification to a previously awarded firm-fixed-price contract (N00019-13-C-0012) for the procurement of 22 MH-60R full-rate production Lot XIII Airborne Low Frequency Sonar systems for the Navy (20), and the government of Saudi Arabia (2), including associated program management support. Work will be performed in Brest, France (59 percent); Portsmouth, Rhode Island (37 percent); and Johnstown, Pennsylvania (4 percent), and is expected to be completed in September 2018. Fiscal 2015 aircraft procurement (Navy) and foreign military sales funds in the amount of $65,801,757 are being obligated at time of award, none of which will expire at the end of the current fiscal year. This modification combines purchases for the Navy ($59,819,779; 91 percent), and the government of Saudi Arabia ($5,981,978; 9 percent) under the Foreign Military Sales program. The Naval Air Systems Command, Patuxent River, Maryland, is the contracting activity."