18 décembre 2014
4
18
/

12
/

décembre
/

2014
17:35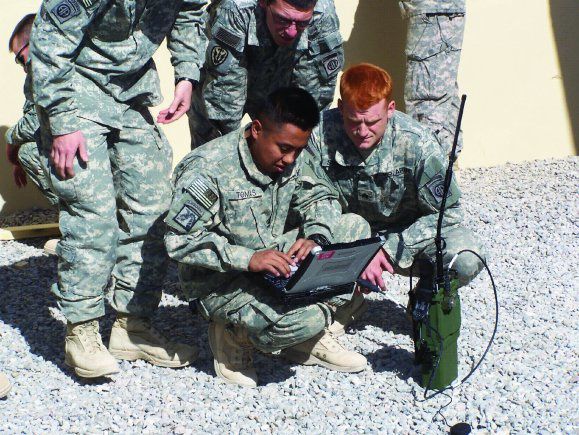 US soldiers using an AN / PRC-117G radio during radio operator training at Forward Operating Base Walton in Kandahar province, Afghanistan. Photo US Army.
18 December 2014 army-technology.com
Harris has received a contract to supply Falcon III tactical radios capable of delivering reliable and secure Type-1 tactical voice and data communications to the Australian Defence Force (ADF).
The $38m contract was awarded by the Australian Department of Defence's Defence Materiel Organisation in support of JP2097 project.
The project delivers enhancements to networked communications to meet special operations command land mobility and command, control and communications (C3) requirements.
Under the contract, the company will supply AN / PRC-152A handheld and AN / PRC-117G manpack radios to provide ADF soldiers with wideband tactical networking capabilities, as well as line-of-sight, ground-to-air and tactical satellite communications.
The wideband network allows operators to send and receive tactical voice, video and data, resulting in enhanced situational awareness and real-time intelligence.
Harris RF Communications International Business president Brendan O'Connell said: "This order complements the significant capabilities of Australia's JP 2072 program and expands our ongoing collaboration with the Australian Department of Defence.
"Harris Falcon radios provide the ADF with wideband capabilities, a broad suite of interoperable waveforms and the ability to easily accommodate future Joint Tactical Radio Systems waveforms."
The Falcon III AN / PRC-117G radio is a software-defined, upgradable voice and data platform designed to support network-enabled operations such as convoy tracking, intelligence reporting and analysis, collaborative chat, route planning and medical evacuation missions.
Offering continuous coverage in the 30MHz to 2GHz frequency range, the widely fielded wideband networking radio AN / PRC-117G is the first Joint Tactical Radio System software communications architecture-certified, National Security Agency (NSA) Type-1 certified manpack radio system deployed by all branches of US Department of Defense.
AN / PRC-152A is designed to provide simultaneous voice and high-speed data services on the move in 225MHz to 450MHz range.
The two radios are also expected to provide users with interoperability through legacy narrowband waveforms. Harris supplied more than 35,000 AN / PRC-117G and 20,000 AN / PRC-152A radios to customers worldwide.