12 janvier 2015
1
12
/

01
/

janvier
/

2015
12:45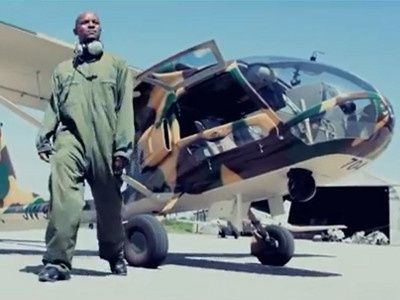 12 January 2015 by defenceWeb
Images have emerged confirming the Tanzania People's Defence Force Air Wing as an operator of the Seabird Seeker light surveillance aircraft.
An article in Aero Australia magazine noted that by 2009, "Seekers had flown some 11 000 hours including 5 000 on surveillance and patrol duty, and were operating in Australia, Azerbaijan, Jordan, Iraq, South Africa, Tanzania, the United Arab Emirates and the USA."
However, it was not clear how many aircraft were flying in Tanzania and it was only after a music video appeared last year that a Tanzanian Seeker was seen for the first time, in the music video entitled Jeshi La Wananchi Tanzania by Jay Moe, Juma Nature and Professor Jay.
The video shows SB7L-360 Seeker JW-9704, which, according to IHS Jane's Defence Weekly, could indicate that four aircraft have been delivered. Wescam's MX-10 video/infrared sensor turret has been demonstrated on the Seeker and appears to be fitted to the Tanzanian example.
The Seeker is produced by Seabird Aviation in Australia and Seabird Aviation Jordan.
In 2006 a Jordanian example was supplied to South Africa (JY-SE1). In September 2004 the Paramount Group ordered five Seeker SB7L-360 surveillance aircraft from Seabird Aviation Jordan, with options for a further five units. In September 2006 Jane's information group reported that Seabird Aviation Jordan had appointed Paramount as the exclusive distributor of the Seeker SB7 observation aircraft in western, central, southern and east Africa and central Asia.
It is believed that four of the aircraft sent to South Africa were subsequently supplied to the Ghana Police Service. The fifth aircraft was set to remain with the Paramount Group in South Africa as a demonstrator aircraft representing Seabird Aviation Jordan in the central and southern African region but it appears it is this aircraft that was donated to SANParks to combat rhino poaching in the Kruger National Park in late 2012.
Paramount confirmed to defenceWeb that it did not supply Seekers to Tanzania. The aircraft most likely come from Jordan.
The Seeker is powered by a 168 hp Lycoming engine driving a pusher propeller and features a pod and boom layout with excellent visibility from the cockpit to support its surveillance role. It has good low speed and loiter capabilities, as it can loiter at a speed of 120 km/h. Maximum speed is 200 km/h. Endurance is up to six and a half hours.