3 mars 2015
2
03
/

03
/

mars
/

2015
12:30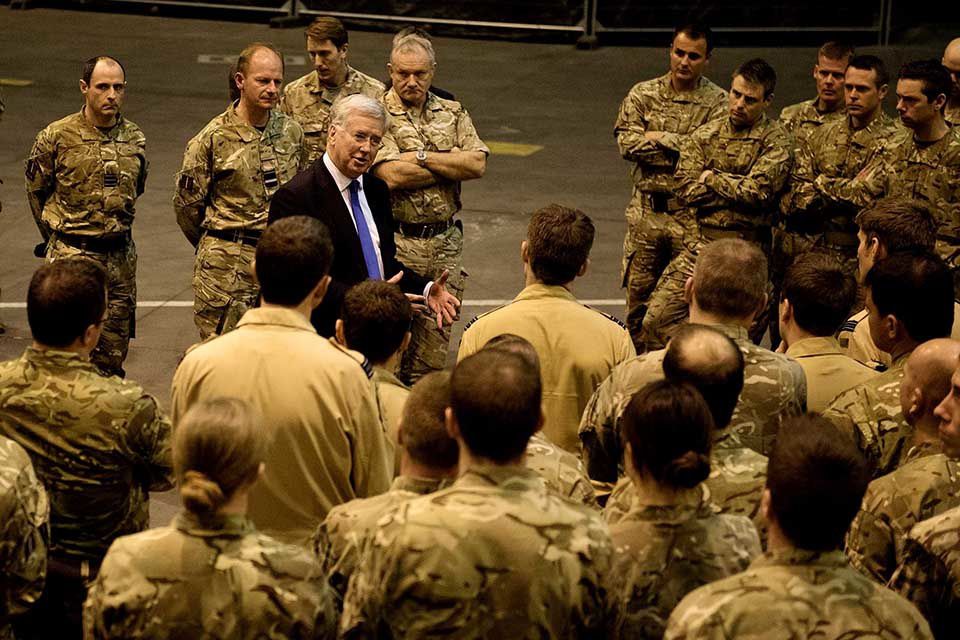 Michael Fallon speaks to UK military personnel during a trip to RAF Akrotiri [Picture: Corporal Lee Goddard RAF, Crown copyright]
1 March 2015 Ministry of Defence and The Rt Hon Michael Fallon MP
Defence Secretary Michael Fallon today thanked UK personnel directly involved in the fight against ISIL during a trip to RAF Akrotiri.
During his second visit to Cyprus, Mr Fallon met RAF personnel from 903 Expeditionary Air Wing who are providing the UK's contribution to coalition air operations against ISIL.
He discussed the campaign and spoke to the pilots who are flying twice daily missions as the UK continues to make the second largest contribution to coalition airstrikes in support of Iraqi forces.
The Defence Secretary also met troops from 2nd Battalion, Princess of Wales's Royal Regiment, and received a briefing on the key role they are playing in the training programme to build the capacity of the Iraqi Security Forces.
So far over 1000 Kurdish Peshmerga have completed training and the UK will lead the Coalition's counter-IED training programme which is due to start this month.
Defence Secretary Michael Fallon said:
I am proud of the work the 400 personnel based here are doing to help the Iraqi Government to defend their country against the ISIL 'cancer'.

While this fight will take time, the coalition's airstrikes are having a direct effect in supporting Iraqi ground operations against ISIL.

In the North, areas around Mount Sinjar have been retaken, bringing relief to the local Yazidi population and applying pressure to ISIL forces in Mosul. In the South, Iraqi forces operations are beginning to push back ISIL.

Britain's contribution is playing to our strengths. By leading the counter-IED training this month our troops will be using their expertise to give Iraqi forces a vital capability in taking the fight to ISIL.
The RAF base has been home to extensive air capabilities since coalition air operations began last year.
These include:
Tornado GR4s which have conducted 90 strikes (as of 2nd March 2015)
Reaper Remotely Piloted Aircraft which have conducted 70 strikes (as of 2nd March 2015)
Voyager which has played a crucial role in refuelling UK and coalition aircraft
C130 transport aircraft which have delivered both humanitarian aid and military support
and finally the recently deployed E3-D Sentry which has enhanced the coalition's airborne control and surveillance capability.