3 décembre 2015
4
03
/

12
/

décembre
/

2015
17:30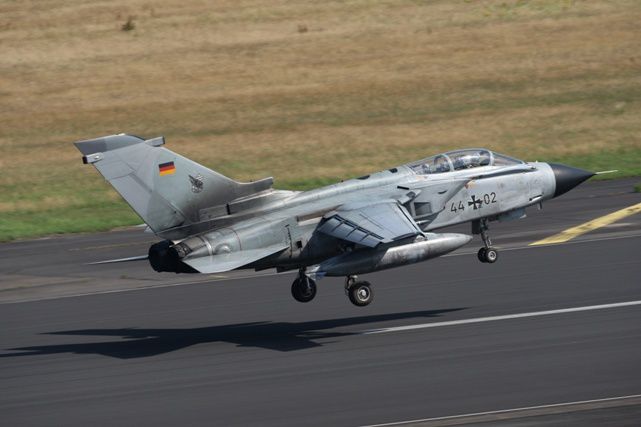 While the UK has finally decided to deploy Tornado and Typhoon fighters to carry out air strikes in Syria, Germany is expected to only send Tornado reconnaissance variants but no offensive aircraft. (GE Mod photo)


December 3, 2015 defense-aerospace.com
(Source: Deutsche Welle German Radio; issued December 3, 2015)


The German military is expected to strengthen the alliance against the 'Islamic State' (IS) with six Tornado jets for surveillance missions. Up to 1,200 German soldiers are also be deployed for a year.

German Defense Minister Ursula von der Leyen (CDU) said that a combination of airstrikes and "local ground troops" was the most promising strategy in the fight against the self-declared "Islamic State" (IS).

The role of the six Tornado fighter jets to be sent by Germany is to provide more information on Syria. A refueling aircraft is also to be deployed, in addition to a warship, which will be sent to protect a French aircraft carrier.

No cooperation with Assad troops

In order to move forward on the issue of ground troops, however, von der Leyen said "one of the first aims must first be for the 1,200 armed groups in Syria to reach a ceasefire," adding that it was important to find forces in the region that were ready to go fight.

The defense minister stressed, however, that there would be no cooperation with troops under the command of Syrian President Bashar al- Assad.
Sign to France and Syria

According to von der Leyen, the aim of the military, which would be deployed in January, is to combat and curb IS, destroy their options to retreat and prevent militants from carrying out further terrorist attacks.

Germany's parliament, the Bundestag, is set to approve the mandate on Friday.
In light of November's Paris attacks, von der Leyen said Germany's military action should also be a clear signal to France and "to the people in Syria," that Germany is determined to join the fight against IS.