19 novembre 2015
4
19
/

11
/

novembre
/

2015
13:50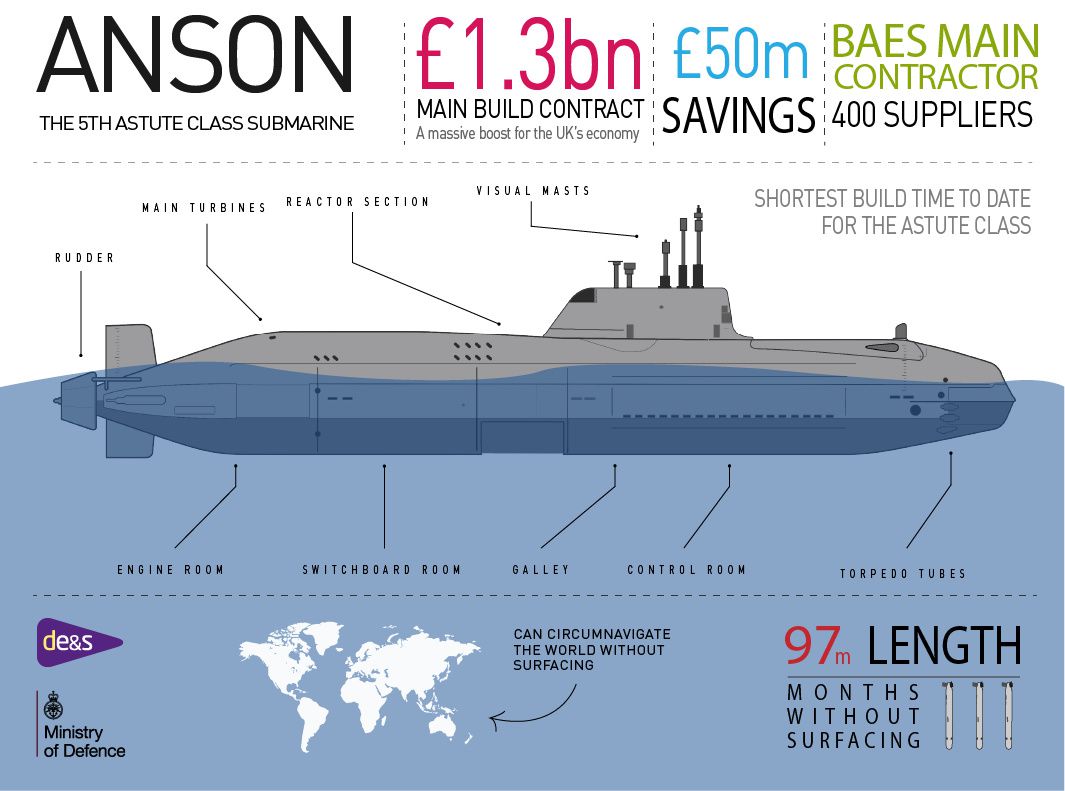 Anson Infographic - credits UK MoD
19 November 2015 Ministry of Defence, Defence Equipment and Support and Philip Dunne MP
A £1.3 billion contract to build the latest Astute Class attack submarine for the Royal Navy has been awarded by the Ministry of Defence.
Both time and money are being saved on the building of Anson, the Royal Navy's fifth Astute submarine. Savings of £50 million for the taxpayer have been achieved during negotiations with BAE Systems, and the agreed build time is to date the shortest ever for the Astute Class, with a current schedule some nine months ahead of that for Boat 3 (Artful).
Defence Minister Philip Dunne made the announcement as he visited the home of the UK's submarine manufacturing industry based in Barrow-in-Furness, Cumbria and viewed progress already made on the new submarine.
BAE Systems employs more than 7,600 people in its Submarines business, which includes those that work on the Astute programme, with thousands more working in the 400 suppliers across the UK submarine supply chain.
Defence Minister Philip Dunne said:
This £1.3 billion contract marks an important step in the progress of the Astute programme. This is a key part of our £166 billion plan to ensure that our armed forces have the equipment they need to defend the UK's interests across the seas, in the skies and on land, both at home and abroad.

This new contract for Anson not only provides significant financial savings of £50 million to the taxpayer but also secures thousands of jobs in Barrow and across the UK supply chain, demonstrating the Government's commitment to increase defence spending each year for the rest of the decade.
Director Submarines at the MOD's Defence Equipment and Support organisation, Rear Admiral Mike Wareham, said:
The Astute Class provides the Royal Navy with the most technologically advanced submarines, offering much greater firepower, better communications, and more advanced stealth technology than their predecessors.

The first two of class, HMS Astute and HMS Ambush, are already in service and making a vital contribution to the defence of UK's interest, both at home and overseas. Third of class Artful is undergoing sea trials and is due to be handed over to the Royal Navy by the end of 2015.
Featuring the latest nuclear-powered technology, the Astute class can circumnavigate the world submerged, manufacturing the crew's oxygen from seawater as they go.
They also have the ability to operate covertly and remain undetected in almost all circumstances despite being 50 per cent bigger than the Royal Navy's current Trafalgar Class submarines.
HMS Artful, the third of the Royal Navy's new Astute Class attack submarines, set sail from Barrow in July.
On his visit, Mr Dunne was also able to see the progress being made on Barrow's £300 million infrastructure upgrade programme, which is due to be completed by 2022. This will prepare the site for investment in a new fleet of four Successor Ballistic Missile submarines and the renewal of Britain's nuclear deterrent.