16 décembre 2014
2
16
/

12
/

décembre
/

2014
08:35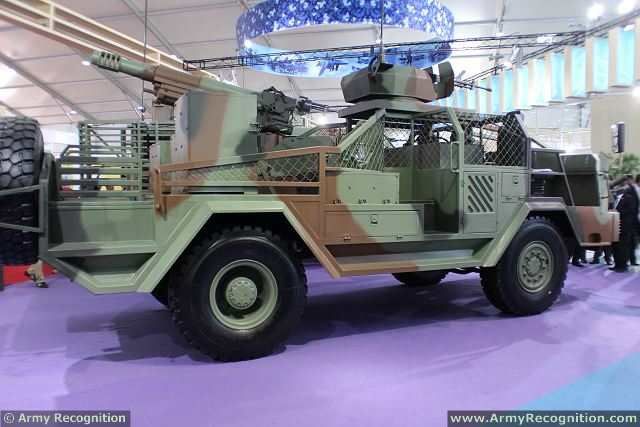 15P High-maneuverability 105mm howitzer Fire Assault Vehicle at AirShow China 2014 in Zhuhai, China. - photo Army Recognition
December 15, 2014: Strategy Page
Chinese firms are now offering combat versions of some of their commercial trucks. A recent example is the Type 15P, which is an armored (against rifle and light machine-gun fire as well as shell fragments) version of the popular SX2110 4x4 three axle all-terrain truck. This seven ton vehicle has 280 HP engine and can carry up to five tons. The Type 15P is configured as an "assault" vehicle and is armed with a 105mm howitzer that has a max range of 11 kilometers but is meant for direct fire (at targets the Type 15P crew can see) using high explosive or anti-tank (HEAT) shells. There is also a 12.7mm machine-gun and eight smoke grenade launchers.
China has already been producing a lot of armored and heavily armed vehicles based on the American hummer. In the 1990s China tried Russian and European designs in their search for a new tactical truck (similar to the American hummer), they finally settled on a hummer clone of their own. China still uses the Russian and German designs for most of its tactical vehicles but it is also buying a growing number of locally made hummer clones. These have been widely adopted by the military in the last decade, and a civilian version has been popular with commercial firms operating in remote areas, especially outside of China.
China got their hands on an American hummer (M998 HMMWV) in 1988 as a gift from the manufacturer. Initially Chinese military officials felt the hummer was too expensive. But the performance of the hummer in the 1991 Gulf War, plus the growing presence of the American civilian version of the hummer (especially those brought in by oil companies for use in remote areas), changed minds. By 2003, two Chinese companies were producing hummer clones and the Chinese Army adopted one of them as the EQ2050. By 2012 an armored version (the EQ2058) was developed.